Résidences Trigano's bespoke solutions has the mobile home that best suits you! Your mobile homes can enhance your campsite's image. Therefore, it's essential you find the model that best suits you and lets you stand out! With Résidences Trigano, you can customise all mobile homes, even the most standard models.
A bespoke mobile home in line with your image
---
Do you want to create a particular atmosphere on your campsite? With a range of bespoke options, you can create areas of varying standards on your campsite. Holidaymakers want unforgettable holidays in a dream mobile home. To ensure that you can adapt to your customers' expectations, our teams have developed bespoke solutions inspired by the latest home décor and lifestyle trends.
Bespoke exteriors
---
Design your mobile home's exterior!
Preferences, standardisation, legal requirements... Whatever the reason, your mobile homes will fit in perfectly with your campsite.
Résidences Trigano proposes different materials that will reflect the look and feel you seek for your campsite.
Vinyl cladding: sand, blue & grey.
A neutral cladding that can be easily customised with our extensive colour palette. Provide your campsite with a modern, colourful look that will please every holidaymaker.
(Standard PVC Sand)
Wood-effect vinyl cladding: honey oak [NEW]
This modern wood-effect cladding is not only stylish, it is also very easy to maintain. It creates a delightful setting that will woo holidaymakers who want to relax.
Wood-cabin-effect cladding
Wood embodies the spirit of nature and helps you forget about all your worries. Perfect for mobiles homes sitting between trees, the wood-effect cladding will draw holidaymakers into a calm, relaxing world.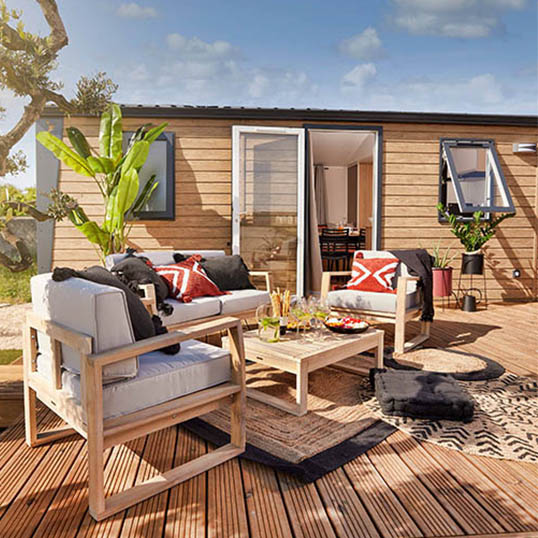 Bespoke interiors
---
Create your ideal living space!
A choice of interiors! Mix and match your sofa, curtain and kitchen cabinet colours with two styles to choose from the NEST range. Choose the style that suits you the best! Easy and fun! Choose a layout and then add your own decorative touch!
Minérale style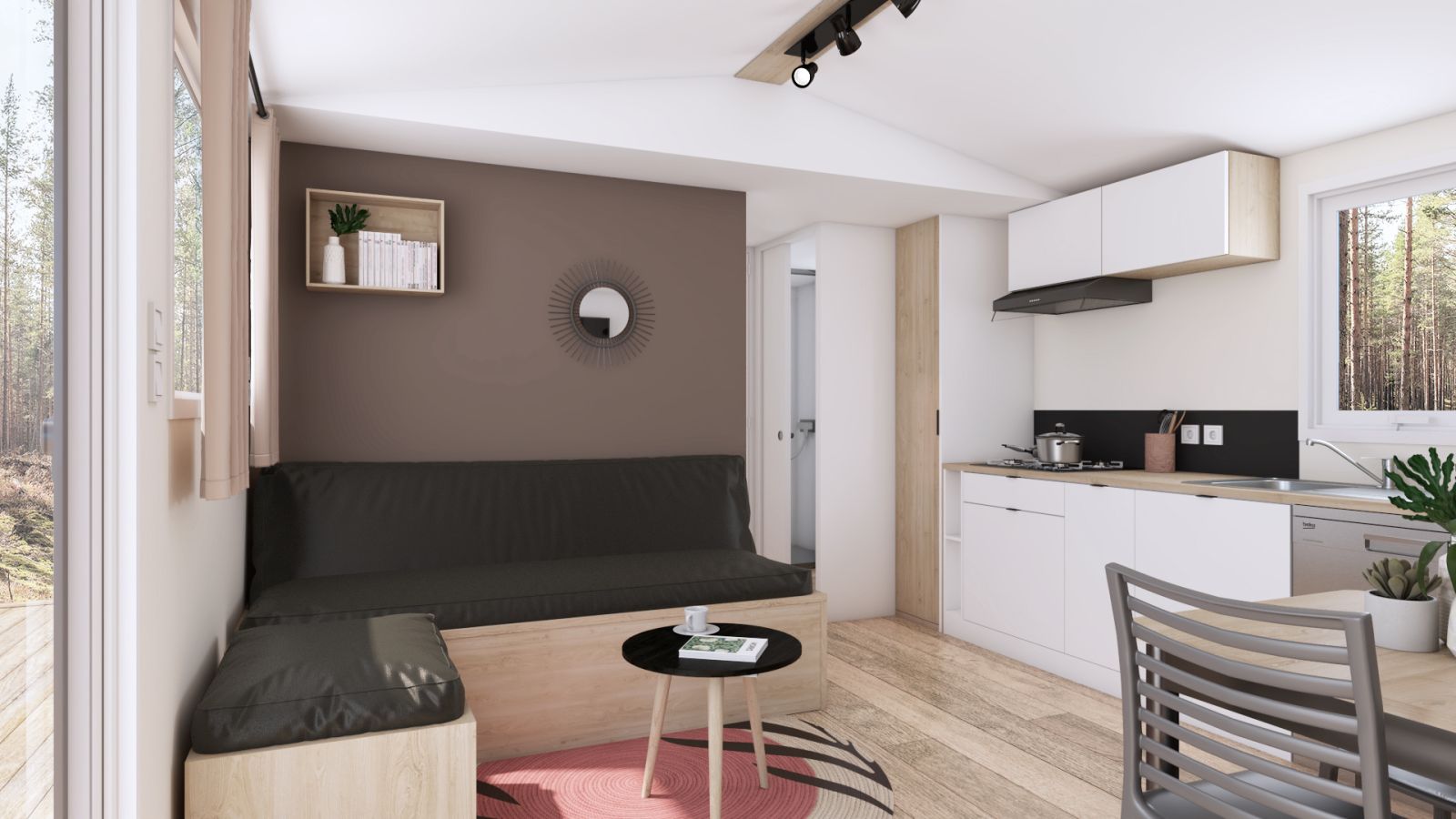 Taupe blackout curtain
Charcoal sofa on the right
White kitchen cabinet doors
Moka style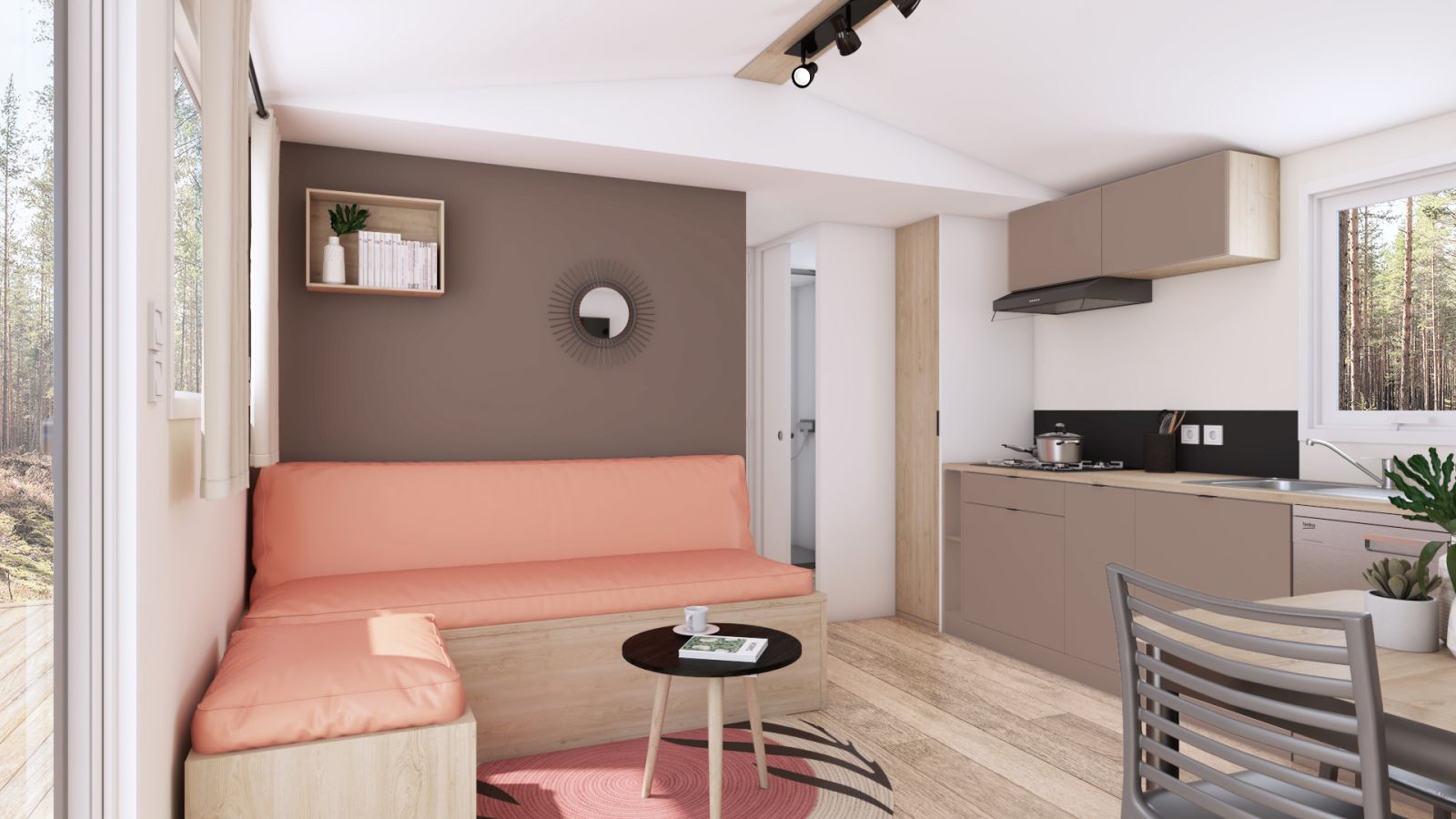 Light grey blackout curtain
Salmon sofa on the right
Praline kitchen cabinet doors
Equip your mobile homes with a wide range of options!
Choose from a wide variety of fittings and fixtures with more than 80 options, including heating and air conditioning, hotel hairdryers, convector heaters, reading lights, memory foam mattresses, etc.
MORE INFORMATION
Even more tailor-made with bespoke builds
---
Have you ever dreamed of designing a unique model? Anything is possible! Résidences Trigano offers a bespoke build service for a minimum order quantity. We work hand in hand with your team to design and create a product in line with your campsite's image!
From the interiors to blending into the landscape as well as the design itself, building bespoke mobile homes means you can create exclusive models that will stand out. You can therefore create tailor-made homes and adapt the level of comfort to your guests' needs.
Your Résidences Trigano sales representative is ready to discuss your individual needs and finalise your bespoke project.
To find out more about building a bespoke mobile home, contact your sales representative.