Hotel model
Trigano's 2-bed Nest 35.2 mobile home is arranged around a spacious but cosy open-plan kitchen-living area. It has 2 bathrooms (one en-suite in the main bedroom) and two separate sleeping areas.
The layout is functional and everything is well designed to provide a comfortable living area and a practical kitchen-dinette area. The Nest 35.2 mobile home's entrance and main bedroom have French doors leading outdoors.
4 occupants
2 bedrooms
9 x 4 m
35m²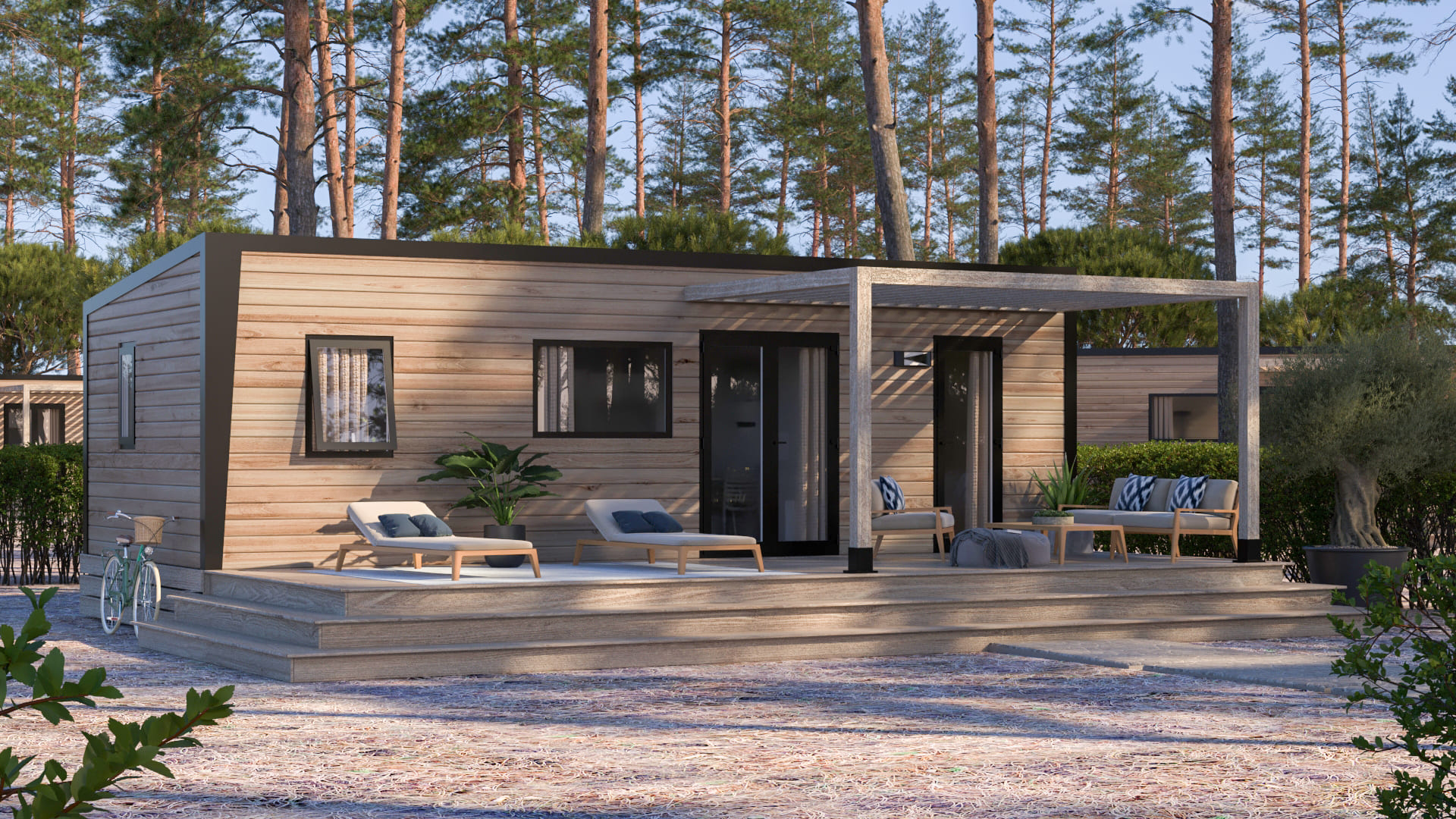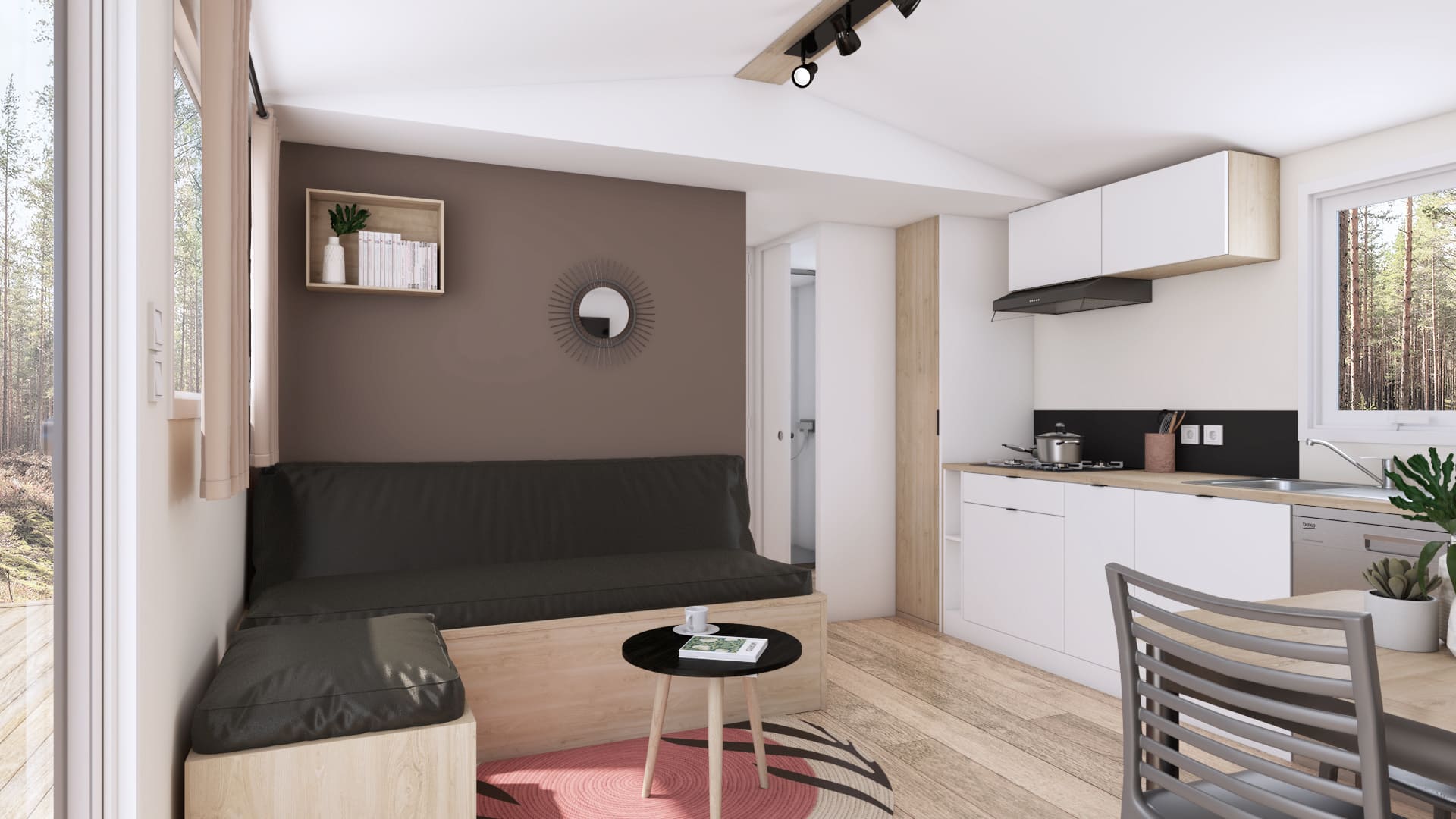 Features
·Spacious and light living room
2 separate sleeping areas
2 bathrooms and 2 toilets
Separate main suite
DISCOVER THE OTHER MODELS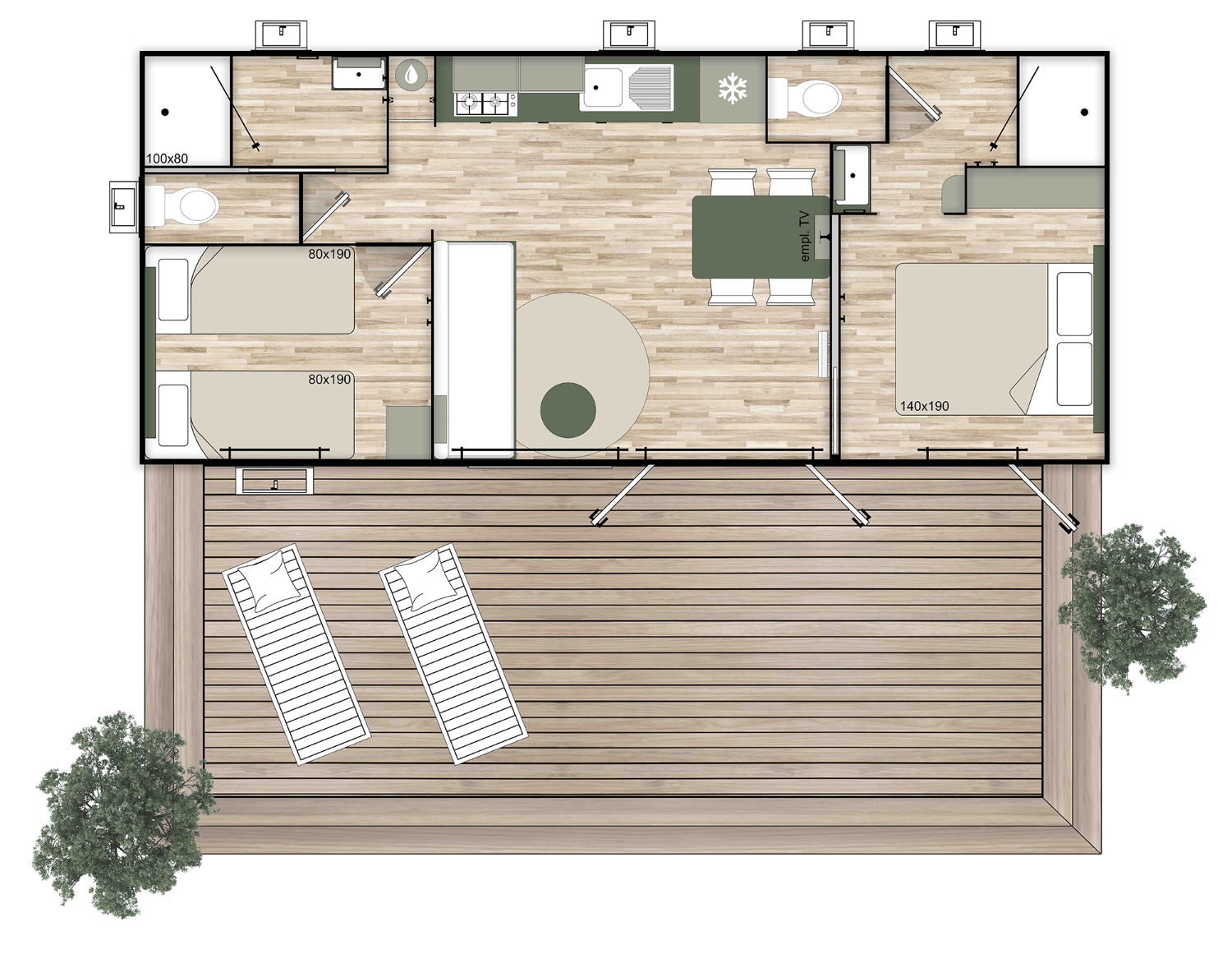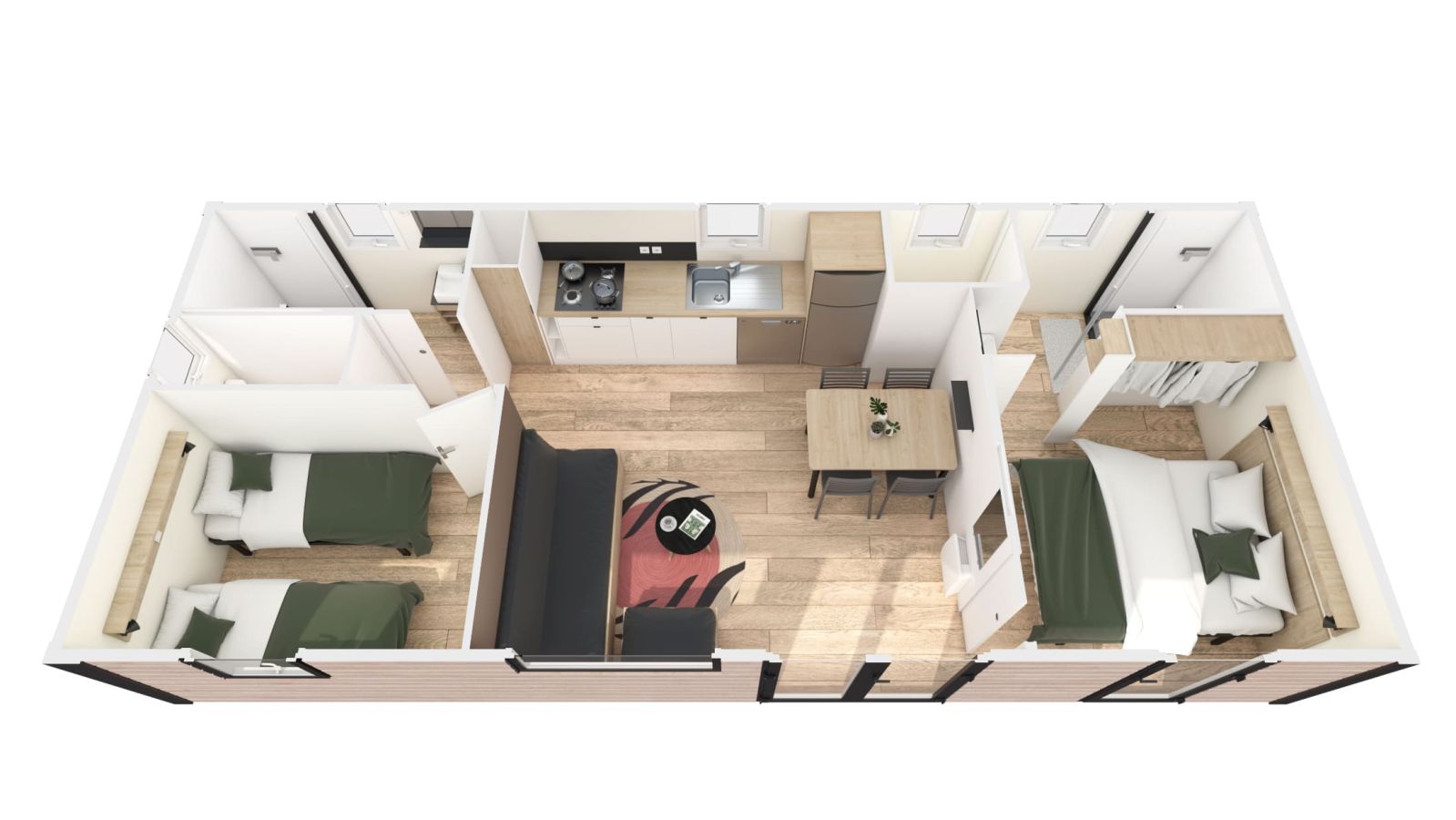 Living area fittings & fixtures
Sofa bed for 1
Blackout curtains
Wood-effect table
Decorative spotlight 100% LED
TV socket & USB socket
High-end heater 1,000 W
Bathroom fittings & fixtures
Shower 100 x 80
Mirror with shelf
Basin cabinet
Towel pegs
Stall with shower pan
Outside design
Gable roof
Sand cladding*
White joinery
Ribbed charcoal roofing
Wall lamp outside
Front guttering
(lacquered aluminium)
Kitchen fittings & fixtures
Large fridge/freezer
Black tempered glass hob
Storage unit
Sink with mixer tap and pressure reducer
Black, fireproof protective sideboard
Drawers with shock absorbers and stops
Bedroom fittings & fixtures
Bed in main bedroom: 140 x 190
Bed in children's bedroom: 70 x 190
French-made mattresses
Blackout curtains
Shelves with hangers
Headboard with shelf
Space for cot
Technical fixtures
Drawbar under chassis
UV-proof and weatherproof cladding that needs little maintenance work
Inside water circuit with press-fit PEX plumbing
Washable wallpaper, easy to maintain
Double-glazing insulation
Tight thermal and sound insulation
Smoke detector
Wooden inside doors with quality frame
Easy-to-maintain resilient lino flooring
Instant hydropower propane gas boiler
Propane bottle system
Double axle
Residential Pack
Fully-equipped mobile home: outdoor options to help with maintenance, reinforced insulation, proper fabric sofa in the living area, maximum comfort in the bedrooms... Perfect to live in or for upmarket rentals.
Roof insulation upgrade
Heaters in all bedrooms
Heated towel rail -> instead of bathroom heater
Blinds in all bedrooms
Guttering: 2P front/rear - 1P rear
Downward: 2P front/rear - 1P rear
Fabric sofa bed
Extractor hood
Cutlery tray
Pots and pans cabinet -> only for this pack
Mirror in main bedroom
Curtains, hangers main bedroom -> only for this pack
4-season insulation pack
Reinforced insulation to withstand all types of weather. Perfect for cold regions or to extend rentals outside peak season.
Pipework insulation
Floor insulation
Roof insulation
Boiler with flue
CMV and aerator
Choose the home décor pack if you'd like a modern look and feel.
Vinyl carpet
Coffered-style décor
Mirror
Additionel seat
Base table
Choose the home décor pack if you'd like a modern look and feel.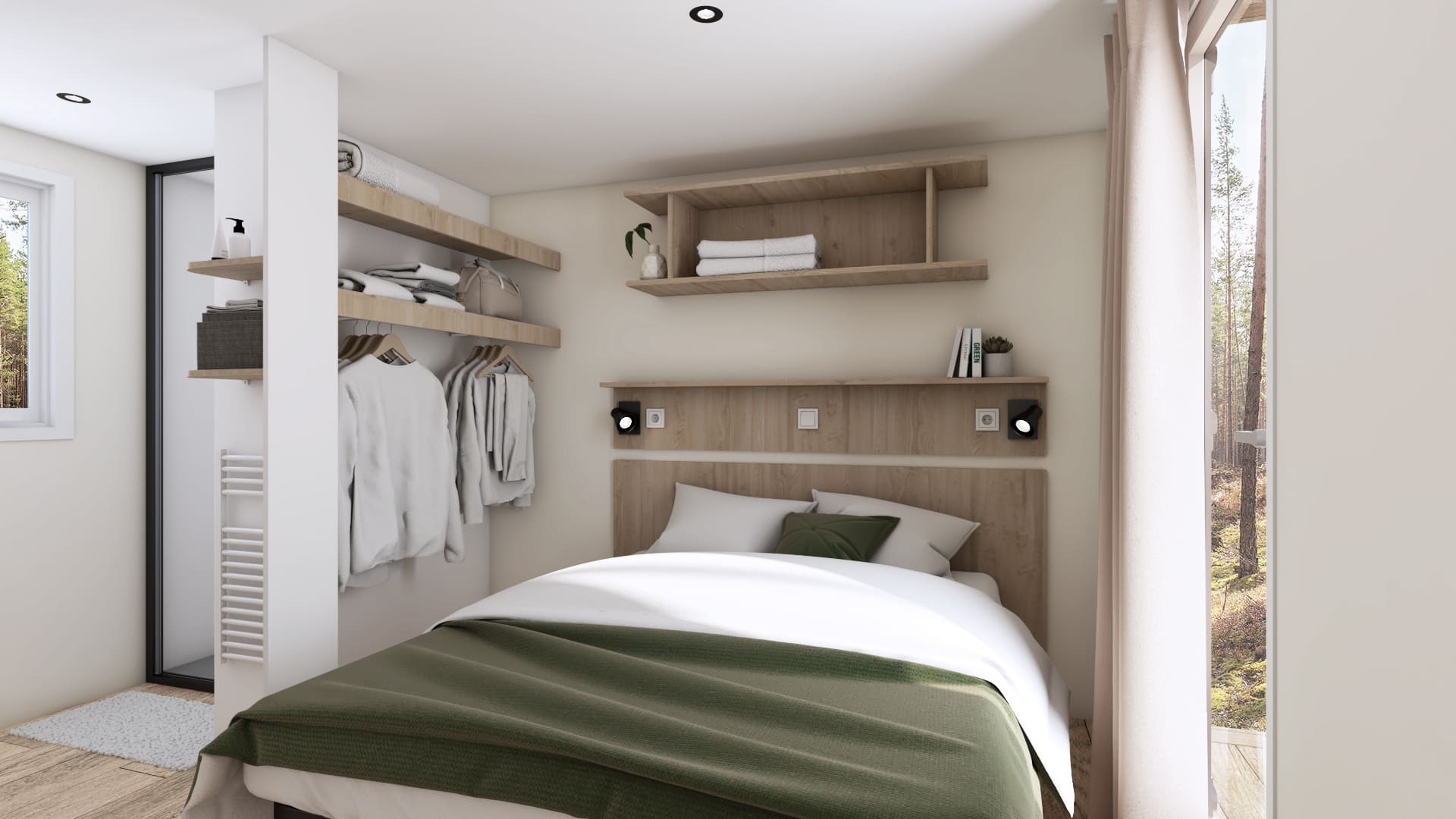 Quiet nights and hassle-free mornings
Since it boasts 2 bathrooms and separate parent/children sleeping areas, Trigano's 2-bed Nest 35.2 is the best mobile home for quiet nights and hassle-free mornings! The main suite has an en-suite bathroom and a French door leading outdoors. The children's bedroom, on the other side of the mobile home, also boasts its own bathroom. This mobile home has everything holidaymakers need to ensure a good rest !
Pictures of Trigano's 2-bed Nest 35.2 mobile home
.
---